The dirt has settled and the trailer is packed, and I feel an overwhelming sense of gratitude and pride for what our coaches, student-athletes, volunteers, and staff have accomplished this season. It's immeasurable, but I want to try to convey some of my favorite moments from this past season. Each and every moment perfectly demonstrate our core values of FUN, INCLUSIVITY, EQUITY, RESPECT, and COMMUNITY in action.
I'm in.
Our first event weekend was hot. Like really hot. And humid. Because you know, we're in Nebraska after all. It was my first event as League Director. We had slight hiccups as we got into our groove, which was a little frustrating, but a parent changed the day with two sentences.
The father of a brand-new student-athlete came up to me in the middle of the race and told me he wants to sign up to be a coach. He said "I'm in. I want to be a part of this." Talk about some powerful words!
I say this all the time, but it's really hard to put into words what our event weekends are like. I try, of course, but there is nothing like being there and seeing the excitement and feeling the vibe of all the absolutely rad people. This moment reminded me that what we – our coaches, athletes, volunteers, staff, everyone! – are doing is nothing short of remarkable. We always win the day when we hear, "I'm in."
Unified Cycling Relay
When we say we are inclusive, we mean it. On Saturday of our last event weekend – Light the Spark at Swanson Park – we hosted a Unified Cycling Relay with Millard West student-athletes in partnership with the Special Olympics of Nebraska. The course, developed by Coach Sara Johnson, was full of twists and turns, and even squawking chickens! Each pair of athletes took their turn riding a total of two laps, touching elbows after each lap. There was a smile on each and every face, the cowbells were ringing, and the cheers were loud.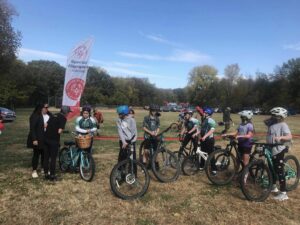 As a teacher at Millard West, I had the unique opportunity to witness Coach Sara's athletes practice almost every day and get ready for their relay. They worked hard and had fun while doing it! It was impossible not to smile alongside them as they progressed through the biking skills Coach Sara was teaching them. I'm sure that this was a moment all of our athletes will remember. We cannot wait for next year and to see all of our athletes on the trail!  
Now that's rad!
Sometimes our athletes experience setbacks. There is a crash or a mechanical that becomes an obstacle to achieving a performance goal. But the coolest is when that setback transforms into a moment to be proud of.
We call these "coachable moments". These are moments when we use the situation, however yucky and unfortunate, to see the silver lining – to see how we can grow from the experience. One young man was SO excited for our final race as it was his home trail. He knew it inside and out. He was ready. After the train horn blew, he was off. Only to get a flat in the middle of his race. He didn't hesitate to get off his bike, get his tools and spare tube from his pack, and change his own flat tire. I don't know many 6th graders who can do that, do you? He didn't have the race he wanted or expected, but the number of people (parents, coaches, student-athletes, volunteers, staff, etc.) who gave him kudos for being able to change his tube and get back on his bike and finish strong was heartwarming and filled my bucket with gratitude. We have this incredible community and culture where, yes, we put on races and they are competitive, but we also don't miss those opportunities to focus on our purpose: youth development.
I am so very proud of our young athlete, but also proud of the community I get to serve because I get to witness moments such as these that remind me that this world is full of amazing humans each with something to offer all of us.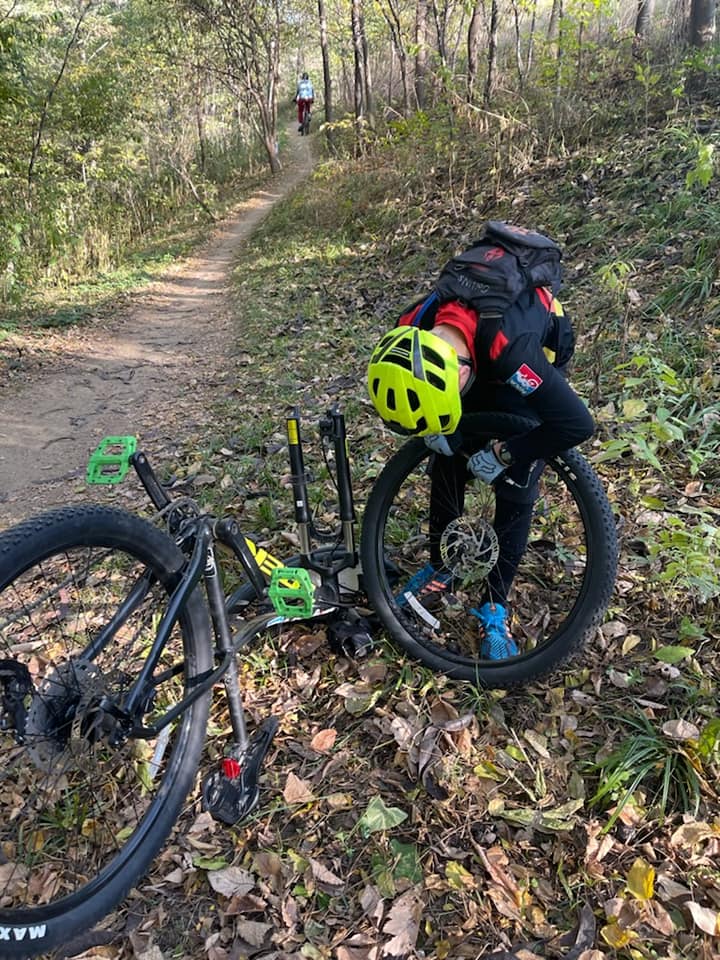 So, as we take a pause from the busy season, I'd like to encourage all of us to reflect on this season and identify those favorite moments. And be sure to share those with the ones around you.
With gratitude, Bree Campbell (League Director)