Passionate, caring, and dedicated coaches are the most essential component of our program! 
Would you like to inspire Nebraska youth to improve their mind, body, and character? 
Have you ever ridden a bike before?
If you answered yes to either of those questions, Nebraska NICA wants you! No prior youth coaching or mountain bike experience is necessary. Just a desire to be a role model for youth in your community to help them be more active and spend more time outdoors!
No experience necessary
Nebraska NICA will provide the training and resources needed to ensure you are comfortable and confident as a coach
Skilled and dedicated coaches are the most important aspect of Nebraska Interscholastic Cycling League mountain bike teams. A Nebraska League coach puts the safety and overall well-being of their student-athletes as the first priority. NICA-licensed coaches are role models and teachers who are open to learning the best practices of youth mountain bike coaching and actively working to hone their leadership skills.
Coaches quickly learn that volunteer coaching a NICA team can be a lot of work yet perhaps one of the most rewarding experiences of their lifetime. Many coaches report improved personal well-being and fitness after just one season. Many coaches echo the sentiment:
"I thought I was doing this all for the kids, but it turned out I benefited perhaps more than the kids, with regular practices and leadership opportunities."
Nebraska NICA Coaching
Sign up for the Nebraska NICA Coaching Newsletter to stay up to date with all things coaching!
Roles
All coaches are required to obtain a NICA Certification at one of three levels:
Level 1 – General Volunteer, Ride Supporter
Level 2 – Assistant Coach, Ride Leader
Level 3 – Head Coach/ Team Director/ Assistant Coach and Ride Leader
Nebraska NICA Coach Training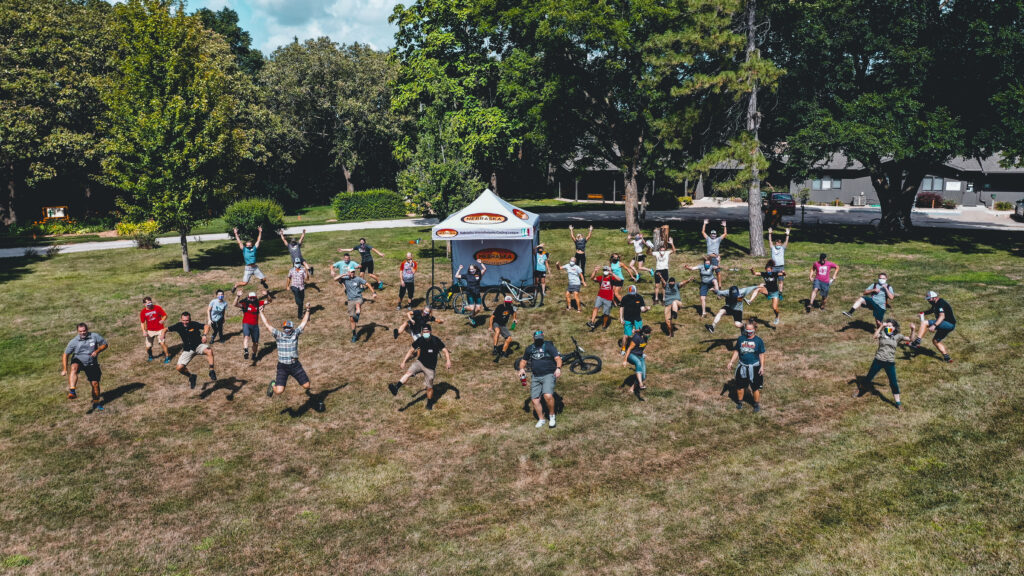 The Nebraska Interscholastic Cycling League provides all the NICA risk management and best practice training for all levels of coaching. Coach calls, seminars including the annual Coach and Leaders' Summit and ongoing On The Bike Skills 101 and 201 and NICA Approved First Aid training are offered throughout the year.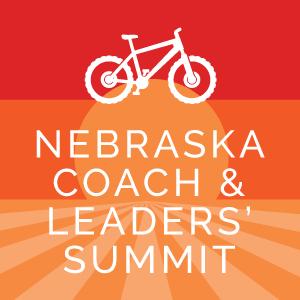 The Coach & Leaders' Summit is an integral part of the NICA model for interscholastic mountain bike programs. They bring together coaches and volunteers — both new and experienced — to develop skills and knowledge, share strategies and build community. The conferences promote a holistic approach to coaching that creates an environment in which young people can grow and thrive. They also provide opportunities for participants to learn all about the league structures and processes, how to start a mountain bike team, how to work with their schools, issues related to liability, and the unique intricacies of working with middle and high school cyclists.
Our 2022 Leaders' Summit will take place April 22-24 at Calvin Crest in Fremont, Nebraska. GET REGISTERED! Our hope is that anyone wanting to be involved in the Nebraska Interscholastic Cycling League will attend. Our itinerary offers a variety of topics that will support the future success of our league.
The cost of the weekend is $140 and includes training sessions, training materials, lodging for Friday & Saturday night, meals and a swag bag.
CLICK HERE for more information or to get registered for our 2022 Leaders' Summit!
How do I get started?
All NICA coaches start with NICA License Level 1 and take it one step at a time throughout the year as opportunities arise to complete additional requirements. Minimum requirement to ride with/coach students is NICA License Level 1 as per NICA "Safe Kids Policy".
FIND A TEAM near you, or contact Susan Reff, Coach Development Coordinator at susan@nebraskamtb.org