Whether we're in season, or it's the off-season for us, we have events for you to attend, learn about who we are, and get involved to get #morekidsonbikes!
In the pre-season (before July 1), we host a series of outreach events called Dirt Tours and Try-A-Rides.
What is a Dirt Tour? 
A Dirt Tour is a short informational event where we share information about our league, including information about coaching, volunteering, and participation for student-athletes. These events are free to the public.
What is a Try-a-Ride?
Try-A-Rides are our favorite event to get kids on bikes, play games, and have a great time together. It is an opportunity for kids grades 6-12 to get an idea of what it is like to participate in league events and be part of a team. We have loaner bikes for any person who needs them, and there is no cost to participate in a Try-a-Ride!

GRiT Tire Change & Basic Maintenance Clinic
April 7
@
7:00 pm
–
8:30 pm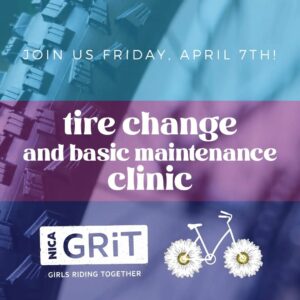 Please join NICA GRiT (Girls Riding Together) Nebraska at The Bike Way on Friday, April 7th from 7-8:30 p.m. to learn how to change your tire and pick up some basic bike maintenance and repair skills!
All female-identifying student-athletes, coaches, and friends are invited. This event is FREE to attend but please register using the link provided so we can make sure we have everything we need for you (and enough snacks OF COURSE). We love snacks!
Please bring the front wheel from your bike if you have one. If not, no worries! We'll have extras.